Julius Grey is a renowned lawyer with more than 40 years of experience and practice in several areas of law. He received his education from McGill and Oxford Universities. He was admitted to the Quebec Bar in 1974.
He was a member of the Faculty of Law at McGill University from 1977 to 2002, and taught at the Université de Montréal and the Canadian Human Rights School in Charlottetown. He was president of the Canadian Human Rights Foundation from 1985 to 1988. In 1984, he published a text on immigration law in Canada. He continues to publish several articles on more technical subjects of law, but also on topics of general interest.
In 2004, Me Grey received, for his entire career, the Barreau du Québec Medal, which is the highest distinction awarded by the Quebec Bar.
In 2014, Me Grey published a book together with Geneviève Nootens, entitled "Julius Grey. Conversations with Geneviève Nootens "in which he shares certain details of his life, because he has a personal philosophy.
Me Grey recently published an article titled "The Ideology of Capitalism" which addresses the crisis of capitalism. In this article, he argues that the failures of capitalism are not an accident or a result of the actions of a few unprincipled men. Rather, it is a harbinger of things to come – loss of employment due to technology and globalization, a world without the myth of constant growth, tension between ethnic and national groups which seek to tilt the scale in favour of their group, a constant need for more radical technology and a fear of its unavoidable frightening side.
Me Grey has pleaded the second most cases in the Supreme Court of Canada. He has gone to the highest court in the country more than 50 times!
Geneviève Grey obtained her Bachelor's degree in Civil Law (LL.B.) in 2012 from Laval University and previously completed a Bachelor's degree in English Literature and Political Science (B.A.) in 2008 at McGill. She has been a member of the Quebec Bar since 2013. Me Grey speaks French and English fluently.
Me Grey is particularly interested in human rights, family law, animal rights and criminal law, especially the impact of legalization of cannabis.
Me Grey has been a mediator in civil, commercial and labour law since 2016.
After her CEGEP Vanessa Paliotti received a scholarship offer at the University of Ottawa where she completed her civil law degree.
In 2015-16, she received her Bachelor's in North American Law from Université de Montréal, receiving the Bohémier-Ferland Award for Excellence in Ethics, Ethics and Professionalism.
Me Paliotti articled in Oakville Ontario in the areas of litigation, estate resolution, trust matters and wills. She has been a member of the Ontario Bar since June 2018.
From March 2019, Me Paliotti is also a member of the Quebec Bar and enjoys the cosmopolitan aspect of Montreal to practice her French, Italian and her comprehension of Spanish.
Although a generalist, she is particularly interested in sports, human rights and immigration.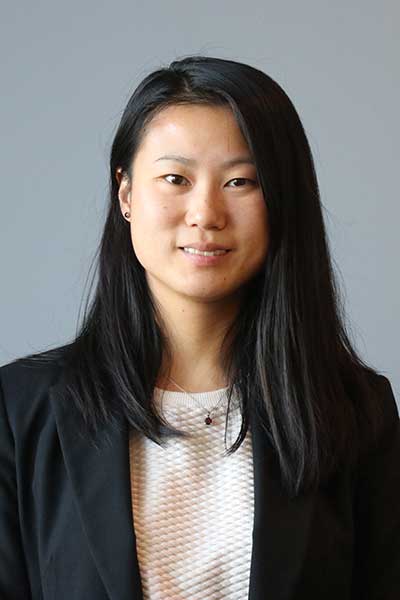 After studying creative writing at UQÀM, Me Julia Blais-Quintal obtained her Bachelor of Civil Law and Common Law degree from McGill University (B.C.L./LL.B.) in 2016. She articled with a boutique law firm specializing in civil and commercial litigation in Montreal. In 2018, she obtained a Master's degree in Criminal and Penal Law Practice (LL.M. Crim.) from the University of Sherbrooke.
Me Blais-Quintal has been a member of the Quebec Bar since 2019. She practices mainly in the areas of criminal and penal law and she has a keen interest in constitutional matters and appeal cases. She is also a member of the Association des avocats de la défense de Montréal (AADM) and the Association Québécoise des avocats et avocates de la défense (AQAAD).
Me Arielle Corobow is a B.C.L./LL. B graduate from McGill University. She was admitted to the Quebec Bar in 2019 after completing her articling in immigration law. She is a member of the Law Society of Ontario.
Prior to law, Me Corobow completed her B.A. at McGill in World Religions and Women's Studies. She has held various research positions and worked as an educator and workshop facilitator within the Faculty of Law and the greater Montreal community. Her research has focused on issues of gender, religion, human rights, education and climate mobilization.
Me Corobow is currently developing a diverse practice with a particular interest in human rights, administrative, constitutional matters.
Contact Us About Your Case